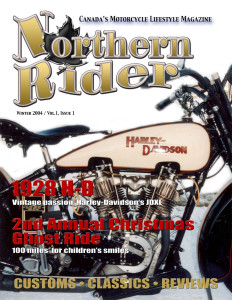 Introducing…
Northern Rider
Canada's Motorcycle Lifestyle Magazine,
Calgary's own, and Canada's first, motorcycle lifestyle magazine has finally arrived.
The Calgary area now boasts a population of over 1 million people and the time has come for the local motorcycle community to have our own voice.
To entertain, inform, educate, and facilitate networking within the community.
After writing for a variety of motorcycle magazines over the past three years, JD Boyd came to the point where he realized the Calgary area could support and benefit from a locally based magazine.
Although many locally focused stories have gone to different publications, there are many more that go unnoticed for every one that goes to print. We plan to profile many of the local characters, volunteers, shops, builders, and other related artists, as well as the local events and businesses.
It will be a magazine not only for the riders themselves, but for anyone interested in what our lifestyle is really about. From the Toy Runs, Ride For Sight, and other great causes we support, to the favourite hangouts of the two wheeling crowd. We will tour the Badlands to the mountains, looking for that less travelled road and local inns that welcome and cater to bikers. Tattoos, leather and lace, singing the blues, rocking down the highway or race track, if it is part of the motorcycle lifestyle, we want to bring it to print for all to share.
Networking …Biker Friendly Businesses will be a listing and a low cost way of networking, so that even the self-employed will be able to inform other enthusiasts about their service available.
Today, the average rider is more affluent and respected within their community, which means more disposable income. Most riders would sooner support a business that supports them, if given a choice.
With this in mind, we hope you decide to support our community and advertise in Northern Rider. Without the support of the local businesses, as well as the ryding population, this magazine would not be possible. Lets show the country, and beyond, that Calgary and southern Alberta is more than just a bunch of redneck cowboys.
Northern Rider magazine will be available free of charge through all advertisers, and we will also be looking at distribution through local sales agencies for the general public.
Kick-start the New Year with Northern Rider… Canada's Motorcycle Lifestyle Magazine