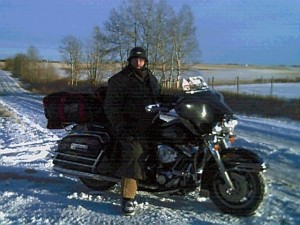 FLH Still the Classic
By JD Boyd
Here in Calgary, the Bow Valley Hog Chapter meets every Sunday morning at Kane's Diner for brunch and bullshit. This is invariably followed by a ride in one direction or another. Although many still store their bikes away for the winter, more and more are deciding to ride year round. Even here on the harsh prairies we are able to ride every month of the year, much of which is credited to the Chinook winds.
In the days when I rode a Shovel, I needed the down time to work on the bike, many winters stripping it down to the frame. Most problems, now that I think about it came from the vibration. From split fenders, to starters falling off, most set backs could be traced back to the fact that I had missed tightening up some bolt or another.
My bro Hound Dog once had his front fender come loss and spin under his front wheel. Needless to say, ol'Hound Dog had a hard time trying to control his sled sliding down the road on that front ski. On the plus side, he looks were improved after the plastic surgeon finished putting his face back together. This demonstrates the importance of using all the proper number of bolts and of the right length. My buddy always had a tendency to use whatever length was available to plug the hole and wasn't above leaving one empty if nothing was handy. I've also been guilty of that in the past, but not since Billy's mishap.
Nowadays, with many of us riding Evos and Twin Cams, we don't really need to lay up our rides for the  winter. So instead of packing them into the living room so you can keep a watchful eye on your pride and joy, many of us are opting to find a heated area with easier access to the road.
After brunch on January 3, two hardy riders and myself decided to take a tour around the outlying Calgary area. The record setting temperatures didn't seem to be encouraging many riders to the open road today. Clear roads are great, but like John Campbell mentioned in the Jan issue, the wind never stop blowing in Alberta. The three of us who did venture to the highway were all riding similar bikes, black FLH's. Coincidence I think not.
Cowboy rides a 2002 FHLT, Danny a 2001 FLHT loaded with the goodies, and I ride a 1999 FLHTC that seldom sees a car wash.. They are all black, because really, that's the only color for a Harley (flames excepted of course).
When you compare prices, the Standard is about the best value for your dollar, and you can customize it to your personal preferences. Cowboy tells me that he is looking forward to adding his own stereo and agrees with me that having full instrumentation is conducive to fantasizing you are soaring above the clouds at 30,000 feet.
Heading south on the four-laned #2 highway, I am reminded of the main benefit of the Classic. This is the bat-wing fairing that protects you from the wind and rain that can dampen any ride. This shape fairing even gives more protection for your hands as they are flared out to divert the wind away from the grips. Even as you look over the windshield coated with a muddy film because of the wet roadways, you are reminded that if not for the shield, it would be you covered in that film of filth. It's bad enough the back of your jacket gets coated.
The fairing also stops that cold prairie wind from taking your breath away. Any one who does any cold weather riding knows how you have to focus to get your breathing under control the first few miles on those chilly days. Every blue moon I'll get the urge to stand in the saddle just to remind myself what the good ol' days were like. Usually three seconds up there in the cold wind is all I need to realize how good I have it with the Classic.
To complement the upper fairing, we all have lowers as well. Cowboy and I have soft lowers that remove in seconds and allow you to use highway pegs while Danny has opted for the hard lowers that have addition storage space. These lowers keep your feet and legs dry even if you are riding all day in the rain.
The final advantage of riding a Classic is the tunes. Whatever your taste, having music along for the ride changes it from a two dimensional, to a three-dimensional experience.
Cowboy mentioned at one point that if he wanted rock he could ride by me, and if he felt like country he could ride by Danny thus saving him the need to change stations. Throw in the fact that if you smoke, you can even enjoy a puff as you roll down the highway, makes for a very enjoyable riding experience. I know from the envious looks we were receiving that others were wishing they could join us today but their rides don't give the cold weather comfort that the FLH's do.
Today we traveled south to Millarville, before turning west to Bragg Creek. Some of the stretches of road in the foothills seldom see light and you have to watch for black ice while riding in these shadows. Still, as we headed north to Cochrane, and then back east to Calgary I couldn't help thinking that if this is global warming, then I'm all for it. Although the temperature was only in the single digits, it was on the plus side, which is all you need if you're on a Classic.