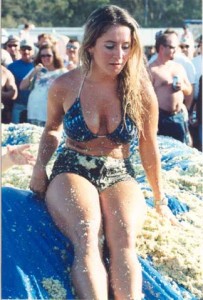 Sticky and Confused
At Daytona Beach
Every spring people from all walks of life are drawn to Florida from Key West to Jacksonville. College kids flock to the Keys for Spring Break, and NASCAR fans are in town for the Daytona 500. The biggest and baddest party of them all is Daytona Bike Week. Motorcycle enthusiasts from all over the world are here to enjoy the sand and sun, show off their custom bikes, tats, and bod's, and party the night away at the many nightspots dotting the countryside.
They call Daytona the biggest Rally and when you leave Volusia County for a quick cruise to the Keys you'll know what they mean.
After riding all night, I arrived in Daytona and headed straight to the beach. Having rode long past my limitations I desperately needed to close my eyes. With the new day a mere pinkish glow in the eastern sky, I laid my head down in the sand of an empty beach and immediately fell asleep. There was enough chill still in the air that although no sleeping bag was needed, no leathers were shed either.
Near four hours later I awaken rubbing a bead of sweat from my eye. The temperature had risen significantly and there were people moving about in all directions. Ever expecting my bike to mystically disappear on me I quickly rise and peer over the wave-break to see my beautiful black beast silently awaiting my return. Anxious to add her own throaty bark to the ever-increasing rumble filling the morning air; and to embark on yet another adventure.
Plugging my cell phone into the FLH's cigar lighter (no late nights stuck without a light for me), and powering up, I call my uncle Louie who is already in town with his wife and another couple. We agree to meet at the local shop. Did I say shop? I meant acreage. The entire area both beside, and behind the dealership was full of merchants of all types. As I stood engaged in polite conversation with a sweet young bikini clad rep that was about to sell me "whatever", I heard my name called out in the crowd. I was surprised at how easily Louie and Gail had found me but I guess my cowboy hat stood out in the crowd. After completing my purchase of a pocket knife inscribed, "I woke up sticky and confused in Daytona Beach", we browsed about for a bit and mounted up to meet Jon and Donna who were doing the HOG thing at the Ocean Center Arena.
My brother had suggested that it might be best us to head south to Key West right away. Probably because of my caviler attitude to time he knew that if we didn't go right away we would never go. There is so much going on that one can never expect to see it all. Still, before I could head south (on what I thought would be an afternoon tour, wrong) I had to visit the Rally Headquarters and the infamous Cabbage Patch. The 'Patch' is another large area, about a ten-acre field. Lots of room for parking and they have personal directing the flow of motorcycles. The vendor's tents, wrestling area and parking all separate although there was room for a limited number of bikes in the area next to the band stage. This is where your performers will always park, closer to the spotlights and the crowds. I got some of my best shots here including a full size wood bike, an Amazon on her Road King, and the coleslaw wrestlers themselves. The races will have to wait until next year. This year it's bikes, babes, and bars.
Whenever possible, it is best to travel with one who knows the lay of the land. Louie knew every water hole from Miami to Key West, but we only had time to hit his very favorites. The first was an open-air dockside spot in Islamorada called The Islamorada Fish Market. Naturally we ate outside and I recommend any of the seafood. Keys Cycle is also in Islamorada, and it's always a treat to visit with Larry.
The farthest southern shop is Horne's Cycle right in Key West but only worth the visit once, as his stories never seem to change over the years.
Expect to pay thru the nose for a room here so if possible shack up with 4 or 5 others. You'll still pay $50.00 American. I asked a bunch of college students/ hooligans how they managed to afford a room in one of the places that we couldn't and one simply replied that they put 10 to a room. We found a small place right in town which was originally the back kitchen of an old home, even had a rear yard enclosed for our bikes. I spent the evening carousing with a local barmaid in bars like the Blue Parrot, while the two older couples took the evening to simply inhale the atmosphere. The next morning, before returning north, we walked downtown for breakfast and strolled back past the Cruise ships docked in the bay.
For lunch, we stopped at Alabama Jacks in Key Largo, another must-stop rest stop for bikers. This is a favorite haunt of the local riders and once again the food was great. Any scraps you may have can be fed to the birds or fish swimming right below the dining area, Jack's is a very casual and rustic place.
After lunch we traveled together until Fort Lauderdale where Jon and Donna turned west on Hwy #75 or Alligator Alley as it is called. Beautiful stretches of road but you want to do it in the daylight, as the alligators tend to migrate to the pavement at night to collect the warmth radiating from the asphalt. The last thing you want to do is wipe out riding over one of those creatures and have them after you. Shit, that's nightmare stuff, probably why I chose to head straight back to Daytona.
Louie and Gail dropped off in West Palm Beach to catch a room, and I continued on alone. From Key West to Flagler Beach took me about 13 hours, you could probably make better time without the traffic. I had a bro waiting at Beulow Campground and a couple of his girl friends from Atlanta arrived shortly after I did.
My baby brother (Dogman), always camps at the Volusia County Fairgrounds, which is south of Daytona as opposed to north and is also cheaper. For KOA Campground fans, I'll note that there is a KOA just down the road from Pub 44 and an another couple I know who stayed there, gave it the thumbs up. Jeff likes Beulow, it is more money but has year round amenities. There are cabins you can rent if you book the October before, live music every night, large, clean rest and shower areas, and a corner store. We were in the over-flow area but it was still an excellent spot. You did however have to be careful of the sand traps when coming or going. Some spots were guaranteed entertainment centers, folks would have their lawn chairs placed in strategic locations as to view the hapless victims of their own cockiness as they tore around the sandy areas only to become engulfed and quite often thrown if they had any speed at impact. One benefit of this terrain is that little damage would occur other than the obvious damage done by sand in a machine with moving parts.
The next afternoon we spent wandering around Pub 44 located next to the New Smyrna
H-D Shop on, you guessed it, Route 44. While we explored the site, I had 'Road Hog Motorcycles' service my bike. Road Hog is run by Rob and his wife Deb, Rob happens to be an old resident of Calgary but prefers the weather in Orlando, go figure. They have a mobile dynamometer and were able to boost the HP to my rear wheel from 68 to 76. There is always lots of beautiful, hopped up, $50,000 bikes hanging around the Road Hog trailer but Dogman put it all in perspective when he said, "I felt a little inadequate around all Rob's friends and their 50 grand bikes until I started loading up the saddle bags with beer, cameras and other gear, looked over at Pete on his FXDWGIII and he doesn't have room for a pack of smokes. Twenty minutes down the road when it starts to rain, I'm watching these guys getting just soaked while I'm dry and comfortable, yea, I'm happy with a decker."
Leaving Pub 44 we continued back to Daytona where we stopped at the Boothill Saloon, for a couple cold ones. The saying here is to "Come on in and have a seat, better here than across the street", which of course refers to the graveyard. Easy to tell who works here, they are twice the size of the average man (me) and wear a shirt that says "I work here". One mountain of a man noticed my hog patch, leaned over my shoulder and politely informed me that they didn't share any patches and that I had to reverse my vest.
"No problem, I quickly replied, I'll take it off".
Saturday night we headed out to Ormond Beach area, where the Broken Spoke, Iron Horse Saloon, and the Jackson Hole Saloon are all located. Being old David Allen Coe fans, we parked in the Iron Horse compound and spent the early evening dancing to the live music, browsing the booths and watching the fools in the burnout pit. It is not an uncommon site to see some idiot's bike parked next to the pit with the rear tire shredded. One lunatic came in one night, burned his tire off, returned the next, and blew his motor. What a smoke show though, and I bet he had a trailer to get the bike home anyway.
Speaking of trailers, I couldn't believe how many were from Florida, some even from the next county. I guess they need the trailer for the coolers, lawn chairs, BBQ, their Labrador Retriever, and whatever else they felt was needed. Having ridden over 3000 miles to reach Daytona, I had great fun with these bikers?? types. One guy seriously told me that he trailered his bike the 90 minutes from his home so in case it rains, he'd still have something to do (this guy was staying in a condo).
The Kentucky Headhunters are playing at the Broken Spoke so naturally we find some time to saunter over and watch some mechanical bull riders before the band starts. Richard and Fred are very friendly guys and more than willing to share a beer and bullshit with you. Richard's the straight man while Fred is totally off the wall. He's a wild man when they let him sing, it shows he is having fun and it is very contagious.
Sunday comes and all we want to do is sleep, but we have one more day. The Daytona 200 is today but I can catch reruns of that on Speed Vision later, today we are heading to Main Street. If you are looking for some t-shirts or leather, this is the day to barter, some merchants won't, but some will and many drop their prices willingly. This also gives us a last chance to view all the different machines parked down Main as we stroll along looking for a last minute deal.
Over the past week, we have seen some old friends, made some new ones and had a great time. I wish we had caught some of the flat track and hill climbing but I guess that gives us an excuse to return again next year.
CCRyder