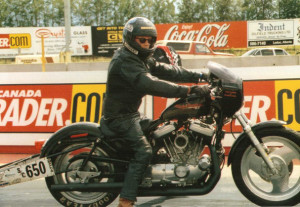 Three Time Charmed
By JD Boyd
When it comes to drag racing some say that consistency is the key to success. Just ask John Fyvie, who is the CMDRA Super Gas Champion the last three years running. John is based in Calgary and sponsored by Harley-Davidson of Southern Alberta and Screamin' Eagle Performance Parts. He has been in the racing game since 1993, and started in Southern Ontario running mainly at the Grand Bend Track.
Back in those days he was racing his street legal 1991 Softail which was featured in Canadian Biker issue #___ in June of 1993. In 1998 John decided to head west seeking his fame and fortune. Mainly he tells me because of the attraction of the CMDRA. John goes on to inform me that the CMDRA was, and is more organized, professional, and better promoted than most. All of which ensures a higher level of competition.
The last four years John has been racing a 1994 XL Sportser, which is in stock condition except for extreme motor work. This includes the engine being bored to 84 cubic inches, a compression ratio of 13.2 to 1, Buell Thunder Storm heads, ported and polished, Buell Lightning Crank, and Red Shift Cams, which all delivers 123 Horse Power to the rear wheel.
His best elapsed time is 9.959 seconds at 132 MPH in the ¼ Mile. All the work including extensive head porting was performed at H-D of Southern Alberta. He has the luxury of having one of the most fully equipped H-D shops in Western Canada at his disposal. Working in a situation where he has excess to a Dynometer as well as a flow bench, head porting room, and machine shop eases the stress of tuning a bike before the race. Instead of at the track, and finding out it's not running properly. This fact contributes to John's success in the consistency area.
John and the rest of the staff at Southern: Jeff, Colin, Pat, and Geoff have the opportunity to do extensive R&D (research and development) during the off-season. This is noticeable by the amount of power that they coax out of the motors they work on. One example is a 2000 FXDX with a 116 C.I. motor that put out 145 ft. lbs. of torque to the rear wheel.
Another tribute to their quality of craftsmanship is evident through the consistency of the XL running every race in the last three years without a breakdown. After winning the Super Gas Championship the last three years John has decided to take the 2003 season off. Future plans may include a Twin Cam race bike that will run in the Modified Class in the CMDRA.
John would like to thank the staff at H-D of Southern Alberta, and Screamin' Eagle Performance Parts for their continued support and sponsorship over the past four years.
JD Boyd
aka CCRyder