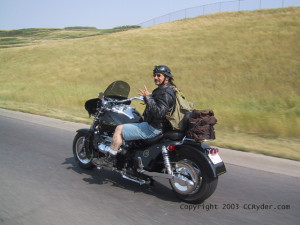 Are You Man Enough?
By JD Boyd
Nothing in moderation, I always say, and in my usual quest for the extreme, I mounted up the largest beast of a motorcycle that I've ever straddled. Comparatively speaking, the V8 Boss Hoss makes an Ultra Classic look like a 750 cc.
As previously agreed, I met Barry Radu, the owner of Boss Hoss V8 Motorcycles of Calgary one fine August morning, at the kick off for a local poker run. After spending a few minutes measuring the fit of the bike, and getting advice from Barry on what to expect I was chopping at the bit to hit the highway.
If the bars and huge tank doesn't tell you, its total size will. Soon as you climb abroad this massive piece of machinery you know you are on a monster of a bike. T Wolf only needed a short ride around Cochrane before exclaiming,
"This is one big mother of a motorcycle!" He wasn't shy admitting the bike was too intimidating for him and he prefers the smooth comfy ride of his 2002 Fat Boy.
Barry has recently fitted a small thirteen-inch bat-wing to the Boss and I found it very becoming as well as functional. At 100 M.P.H. very little wind was hitting me and the bike was rock solid. Benefits of weighing 1100 lbs.
Ah, I'm getting ahead of myself. Back to the lot. I've mounted this iron beast and feel just like a young cowboy climbing atop his first bull. Sitting in neutral, I roll the throttle a ¼ turn, and watch the upper bike rock with the torque of the beefy Chevy 350 cubic inch engine pushing out 385 horse power. Yea, you read it right, 385 horses, wow. Although 355 ponies is standard, the cam kit bumps the HP up to 385 and gives that pleasing "lumpy idle".
The bike I 'm riding today has standard equipment including a two-speed transmission with reverse, manually shifted by a heel toe shifter. The low gear will go to 90 MPH as Barry forced me to do at least once, but you can shift into second any time after 50 MPH. Barry tells me that riding at 2400 RPM will give you a speed near 75MPH and about 25 MPG. The tank holds 6.5 gallons of high-octane fuel. One cool feature is a storage compartment under the passenger seat.
A mustang seat complete with backrest supports the ryder and Avon rubber front and rear support the bike. It also has inverted front forks and the following options; chrome "Boss Hoss" gas caps, luggage rack, sissy bar, and chrome gauge bezel. The standard gauge package includes engine temperature, oil pressure, speedo / trip meter, fuel, and voltmeter. A Delco 100 amp alternator has plenty left for that electric vest on chilly days.
Besides the mass, the next thing I have to get used to is the centrifugal clutch, meaning… no clutch lever. During slow speed manuveering in parking lots, I am constantly using my clutch to disengage power to the rear wheel. I feel this gives you more control for tight cornering, etc.
My next thought is how am I supposed to do a burnout? With great care, I pulled a circle and slowly pulled in with my traveling companions for the day. Many thanks to T. Wolf from Denver for taking the digital road shots. We couldn't avoid a bit of stop and go traffic before hitting the #2A to Cochrane. By the second intersection I had figured to up shift to neutral while approaching the red light. This way, I'm still able to play with the throttle a bit, rocking the bike each time, cool.
Leaving the city limits behind, I wait for my companions the last light on the way out of town. Then I realized that if I'm gonna test this machine, I won't be waiting at any more lights. The guys know where the next stop is. I feel a bit like Wily E. Coyote sitting on top of a rocket as I blast my way down the black top. Moments later my friends are out of sight, maybe I should wait for one of them at least. T Wolf is the first to catch up on his 2002 Fat Boy and we settle in riding tandem along the road.
Seems T Wolf wanted a little demonstration of the power at my fingertips. Numerous times, I let T wind out his Fat Boy before pulling away like he was sitting still. With a huge grin plastered across my face at the same time.
After some McKay's famous ice cream in Cochrane, the rest of the poker run catches up and we're off to Bragg creek and Turner Valley. Once we hit the twisties running through the foothills I decided to run at the back of the pack. That huge seven-inch rear tire just isn't made for peg scraping.
At 5' 11" and 180 lbs., I'm probably as small as you want to be to pilot this rocket. I even wish I was 60 pounds heavier, and then I could throw it around some. As it was, I think I was man enough. I didn't try any burnouts, but crossing 100 MPH was a cinch and comfortable with the bat-wing. This is definitely a cross-country machine, and if it's a statement you want to make, consider it made with the V8 Boss Hoss.
Although retail prices are near $50,000.00 for new models, the 2002 I rode is available closer to $40,000.00. For more info contact Barry Radu in Calgary at 1-877-552-7883.
Don't forget to log onto www.northernrider.com for the ramblings and photography of a cross-country ryder. You can contact JD at ccr@northernrider.com