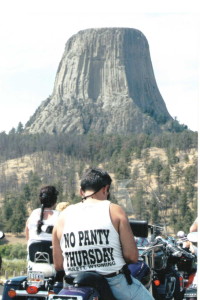 What Biker Freedom?
By CC Ryder
During my first trip to Sturgis Bike Week four years ago, my brother told me whatever else I did; do not miss Pantiless Wednesday in Hulett, Wyoming. Hulett is about a ninety minute ride from Sturgis and boasts the credo
"Hulett – Home of the Devils Tower… Biker freedom the way it should be".
Since my brothers first visit in 1993, Hulett has grown and now host bikers all week long, but for how long, we don't know. It seems that a power struggle is taking place in this tiny community between those who want the bikers and the money they bring and those who don't want the bikers, period.
Regardless of all else, I still reserve Wednesday for my annual trek to Hulett. This year would be no different. Every year, during the bullshit sessions around the camp, Chicago Bobby and I try to outdo each other with our stories of extreme riding. This year, I made a point of spending more time with Bob and his most gorgeous woman, Jill.
"Bobby", I says,
"Today we're going to find out if you only talk a good ride or if you can actually run with the big dogs!"
It is always best if you can get an early start while touring the area during Bike Week, which is easier said than done. By the time we had all the bikes in our group together and ready to head out it was near 11:00 AM. There were five bikes in our group when we hit the interstate heading west to Wyoming.
Within minutes of hitting the highway, Bobby put the pedal to the metal and we were off. Knowing everyone with us was capable of dangerously high speeds I gave the old girl all she had to keep up with Bobby on his new Road King. Ah yes, the Chicago boy can ride, although his road etiquette could use some touching up.
The highway was packed and we were threading our way through the traffic at a healthy rate of speed. Being more concerned with the front of the pack rather the rear; I failed to notice that one of our group had fallen behind. We never slowed down until we reached the Wyoming border where we pulled over to snap a shot of the group in front of the state sign.
Where was Red? We waited and waited but he never showed up. Then Jill says that she saw him heading back to Sturgis and also informed me that he had flipped us the bird as he roared by. It turns out that the old man fell behind and was unable to catch us through the dense traffic, furthermore, he saw us too late to pull over when he passed us at the state line because of the great number of bikes on the road. Guess he figured we were too kamikaze for him and decided to return to Sturgis.
In past years I've gone straight to Hulett but this year decided to take the ride into the park itself in search of the perfect picture. At the gates we stopped to check the cost to enter and grab a quick beverage. After snapping a few pictures I chatted briefly with a few carpenters who went by Flowerchild and Kermit.
These guys had just returned from Hulett and informed us that it was a waste of time going that way. Biker freedom, the way it should be… might be someplace, but it sure wasn't in Hulett. The cops were giving out tickets as quick as they could write them and were issuing citations instead of tickets to any poor girl who was compelled into displaying her assets. This meant that they would be required to return there to attend court instead of merely paying the usual $90.00 fine.
Upon consideration we decided that after coming this far, we might as well go the distance. But first, we are going to ride up to the base of Devils Tower for that picture we wanted since the cost was only $3.00 dollars a head. Some places really soak the bikers during this week so I have a habit of checking all prices beforehand.
The park is very picturesque and there were plenty of Park Wardens watching to ensure everyone was obeying the speed limits through the park. When we reached the base of the Tower another park employee attempted to steer us into a parking area that just would not do for a picture. I informed him of our quest and he suggested that we return back the way we had come and further informed us that there was a dirt road a short distance back that would take us to an excellent spot to get the picture we were looking for.
Thanking him, we pulled the loop and headed back whence we came. Coming to the dirt road he had told us about we turned right and slowly traveled this back road in search of the 'spot'. Within minutes we came to an area below the Tower that was just what we had in mind. I pulled over to the side and suggested that we line up the bikes right there.
Bobby decided to turn off the road and slowly inched his way up into the centre of the field directly below the massive volcanic butte. Without thinking, the rest of us followed and we lined up the four machines to take that perfect picture. As soon as we had finished we noticed many other bikes coming our way… and one Park Warden. Ever have a good idea that everyone wants to copy? Today was no different; before we had a chance to return to the trail other bikes were waiting to take our route up into the field.
The Park Warden quickly pulled up and cancelled those plans. In fact he told us to stay put and chased the balance of the bikers back down the road. In our haste to get 'the picture' we had failed to notice a sign that read "No motorized vehicles past this point". To make matters worse, we had headed off road within four feet of said sign, hard to claim ignorance now but we did so just the same.
We further went on to explain that one of his co-workers had sent us this way. Moments later we could hear the other worker over the radio stating that he had recently directed four bikes to this area. That might explain how we got here but it sure wasn't going to save us from the long arm of the law. The situation was quickly deteriorating as other members in our group started berating the warden. Never being one to insult our fine officers of the law (especially when they haven't finished writing up the tickets yet), I tried to make light of the situation and appeal to the warden's sense of fairness.
To his credit, he called in his superior and after a brief conversation he inspected the area we had parked our bikes moments before for our shot. Seeing that we did no visible damage (did not spin tires while pulling in), he reduced amount of each ticket from $100.00 to $25.00.
Once the ticket issue had been resolved, we came to find that the warden was a camera buff himself and he even took a picture for us, and then joined us in one.
Within the half hour we were back on our way to Hulett and pulled into this normally sleepy little town shortly after 1:00 pm. Bikes were stacked in every available spot at the edge of town and the powers that be try to get you to park in this area. Personally, I think it is merely an attempt to force you to walk by more vendor booths. Having been here before I knew to continue down the hill to the centre of town. They close Main Street off after it fills with bikes but I always seem to talk my way in. With bikes constantly leaving, you can always find a place to park. Even with the increased police presence we managed to have a bit of fun and took many pictures. I must admit though, that it was slightly tamer than the past two years.
This is just another example of how we are slowly but consistently having our rights/ privileges striped from us by the various levels of Government. It seems that we must be accountable as citizens, but the Government seldom is. With the great number of motorcycles on the roads these days, we should be pooling our resources and lobbying the Government wherever possible. Like my Jackpine Gypsies shirt reads…
"Guard well your freedoms, once gone they are hell to get back."
(please keep in mind I'm talking about the Canadian Gov't)
JD Boyd aka CC Ryder