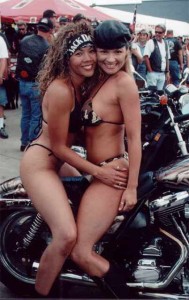 Last Trip to Sturgis
By JD Boyd
Sturgis 2002. I know the weather (besides the daily thunder / hail / rainstorm) was great cause I'm sitting here peeling the dead skin off my nose as I type these words.
After spending a full week touring the Black Hills of South Dakota and the northeastern corner of Wyoming I return physically exhausted but spiritually enhanced. For me the "Gypsy Classic Tour"  has become more than just the biggest biker party in North America but also a family reunion with a variety of groups from all over the USA who have only come together through this Rally. That may be why I failed to notice the Gov't pillaging, that now seems to be threatening the "Black Hills Motor Classic".
Being a Past President within the Junior Chamber/ Jaycee's organization and a past member of a local Chamber myself, I do believe in the importance of the supporting / networking of local business' within any community.  As a participant only the last four years, even I have noticed a difference in the community's / police's attitude. In 1999 the majority of vehicles I noticed being pulled over were cages full of drunken youths (read, locals). This past year 80-90% was lone bikers (and in many cases, the officers had their hands in pockets as I passed). Now, if the info Jay Allen at the Broken Spoke passes out to all his patrons the police have no right to search you unless you are under arrest. To me, that is Biker Harassment, and we've only just started.
This is the first year that Harleydavidsonman.com has had four photo-hogs all together at once. Usually we are at different ends of the continent so we were all looking forward to sharing the fun and responsibilities, not to mention some riding together.
Huss was the last to arrive and after checking in at the first payphone he saw on Lazelle St. he pulled back into traffic heading west to hook up with the rest of our crew dining in Deadwood with the management of Road Hog Motorcycles, out of Florida.
Huss cautiously joined the massive flow of traffic traveling west on Lazelle, heading to the I-90. If you follow Lazelle under the I-90 out of town, it will take you to Deadwood ten miles away (one of the nicest stretches of road around). Within seconds our young photo-hog hears a siren behind him but feels the COP must be heading elsewhere. Wrong! Seems Huss forgot to lower his goggles in place and so has no proper eye protection, which is going to cost him twenty dollars NOW! Feeling perturbed over the incident himself, and seeing the Constable on Patrol felt that ten minutes in town did not warrant a reason to issue a warning instead of a ticket he decided to be difficult himself. Of course we know who won that discussion and maybe we can share the story some day.
Huss eventually managed to join up with the rest of us before we returned to Sturgis for the night. There were six bikes in our group riding back to town after dinner. More than enough to be safe, you would think. Wrong again. This time some energetic young officer cut off the last bike in our group to pull in behind (you guessed it) Huss and flip on the lights. This time our photo-hog only got a warning for "riding too loud" and was told to ride normally from now on. Gee, for Huss, he was practically standing still.
As we stood around the Road Hog trailer later that evening, Huss' cusses were echoing down Lazelle and he was loudly proclaiming this would be his "last trip to Sturgis". Oh my Lord, I thought, I need this guy positive this week and he is ready to pull the plug now. It's going to be an uphill battle, I can see.
It turns out that more and more people are leaving Sturgis with the same foul taste in their mouths that Huss had the first night. Lets face it, bad things can happen to you during Sturgis Bike Week and a twenty dollar fine is the least of your worries. Here are a few other examples I personally witnessed:
–       Search and seizure
Towing of motorcycles day and night for the slightest reason such as barely painted and very unnoticeable handi-capped zones on and near Main Street
DUI's the COPS figure 8 out of 10 will be drinking so they play the odds and pull you over for the slightest reason. Another local informed me that they bring in over four hundred rookies from all over the state and they are all looking for bragging rights when they return home (read, looking for that big bust, no pun intended).
Citations In Hulett they were handing out citations instead of the customary ticket for indecent exposure. Now the girls who were tempted by the crowds must return to this hick town for court. Crazy, I guess they will have to change their slogan from "Biker freedom the way it is supposed to be" to something more appropriate.
Motorcycle theft, although thankfully none of my friends lost their bike this year there was a pool on Randy's new Titan since he has lost one to theft the past two years, last year on the last Saturday night. Teenwolf's fat boy was even unlocked right next to it and the thieves ignored it shows they knew their bikes. Sorry T-man.
All this pales in comparison with what lies ahead of a few unfortunate souls every year at these major runs. Death and dismemberment hits every year and I witnessed examples of both during our rides this past week. I'm sure the details are unimportant compared to the message. One poor girl near Devil's Tower lost her leg as a result of clipping a ½ ton truck going the other way and another was hauled away from #385 by an ambulance without any lights or rush sad, but a fact of Sturgis. At this point I will state that if you have less than 5 years riding experience, leave your bike at home unless you are very comfortable riding in close contact at high speeds.
As if the threat of death wasn't enough to keep the sane at home, now the County seems wholly committed to raping the run participants and vendors for every penny possible. I also witnessed one person (vendor) who had previously paid their $600.00 vendor fee only to get closed down for being late with their sales tax. The County in fact, recently opened a new office just for the purpose of raping the vendors, oh, I mean promoting the event and licensing / collecting fees of said event vendors. Either last year, or the year before there was a big stink in town about a twelve-year-old boy who sold papers without a license getting fined. Guess the City (using the term loosely) was concerned we may revert to the days of Charles Dickens and his hawkers. After a much-publicized battle the City decided in their wisdom to let the poor boy off.
Now, getting back to the word "official", meaning the Sturgis Chamber. My first year in 1999 I bought over a dozen official shirts, thinking at the time that I was supporting the official body of the Rally and Races. The last two years I've picked up Jackpine Gypsies shirts and patches. These are the guys who back in 1938, led by Clarence (Pappy) Hoel, had the first AMA sanctioned event (with nine riders) followed by a tour to Mount Rushmore where lunch was served by Pappy's wife Pearl, and her friends. In fact, Pearl is still alive and active during the Rally and Races with near fifteen people staying at her home this past week.
Even though I did not buy any official shirts this year, I still spent thirty-five dollars on official patches and pins, which I will point out, does not include any Willie G. merchandise. At least H-D seems to be willing to put something back into the Rally by hosting such events as the HOG member reception on Monday evening at the Rapid City Civic Center. The crowd was huge to say the least but lines for your HOG pin, or food were moving quickly and efficiently. Naturally once I got my HOG pin I headed straight to the desert tables, hence cutting out one line all together. Three pieces of cake was all I needed to fill my appetite.
Some of the deals offered here on H-D merchandise was a welcome change from their standard pricing procedures. If I had me one of those HD Visa cards, I might have spent the limit right here. The nicest thing I didn't get was a vintage racing jacket. Oh well, I can only wear one at a time, any hooo.
This year I've decided to get back to the roots of this still fabulous August destination. My first plan of attack is to find and interview members of the Jackpine Gypsies, might even find a talkative one if I'm lucky. When it comes to the Gypsies, to a man they are enthusiastic in sharing their stories. As Tom (Radar) Rounds told me,
"The old guys are always out there advising the younger riders, because they are the future of the club."
On Sunday afternoon Harpo, Huss, Liz, and myself found our way to the Jackpine Gypsies Clubhouse, which includes the flat track and the hill climbing courses. After coercing the gate attendant we made it to the clubhouse where Mac (chairman of the Board) set us up with two of their ever enthusiastic volunteers, Roger and Rose, who managed to find us a spot to park our fleet of Harleys close to the base and pits.  Thousands were here, and it soon became clear what the attraction was. The hill is looming and impressive with its three stages of red soil and shale.
Today, the hill will be unbroken but there were plenty of spectacular attempts. The top distance of the day was 199 feet which belonged to ——- of ——-. As I was working my way up the slope I happened to meet up with Shay Hogan, probably the youngest competitor here today. Shay hails from Spearfish (about forty-five minute's west) and competes in the MX, flat track, and hill climbing events. At eight, Shay has three years in and allows that the MX is his favorite. Even after laying his bike down numerous times he admits to "no fear". Today Shay's best attempt at the hill (thirty-seven feet) brings him a 1<SUP>st</SUP> place in the 50cc and under class.
During my hike to the top I met some of the eight "catchers" who line the run to catch any bikes going the wrong way before any one gets hurt. This is another group of volunteers let by Scott Lensegraw. It is Scott's job to find enough strong young men willing to put themselves in harms way every time one of these power bikes come tumbling backwards, often heads over heels as I caught on film many times. I asked Scott why, and he responded that when he started 15-20 years ago, it was just to have something to do during Bike Week.
After reaching the peak, I managed to meet Radar who at forty-two is the current VP of the Gypsies and he is the guy responsible for the hill climbing events. Like most Gypsies Radar is easy to chat with. Turns out he has been VP four times under different Presidents, two terms as President and one on the Board. Radar is proud that the hill climbing is the Club's biggest Ways and Means event but he admits it was always one of their most popular events (even before he took over as the hill climb head ramrod in 1995). Radar also concedes that the ½ mile used to be their biggest event, but they haven't had a good one in years.
This may have something to do with the once $50,000.00 purse currently sitting at $11,000.00. Radar assures me though that despite the smaller purse this year the ½ mile will be rocking and hopefully the purse will be bigger next year.  I heard that Joe Kopp; the 2000 amateur champ is in town but not to race.
Monday morning we head to the Gypsies rally headquarters at the end of Main St. just one block from the "Spoke". Luck is with me again and I meet Bob, Bob, and Bob Moore. One Bob jokes that when somebody says, "Get Bob to do it", half the room disappears.
Bob Moore, with thirty-five years in, is not the senior member present, but definitely one of the more outspoken. Bob informs me that in addition to the Race events, they also do "Guided Gypsies Tours", of which one is a benefit tour for 'Father Murray Sky Ranch'. This is a ranch operating as a retraining center for wayward youth. The Tri-State Tour includes a meal, patch, pin, and shirt all for thirty-five dollars. For a good cause to boot, now that's the spirit we were looking for. Additionally Bob lets me know that the tours are on Monday and Tuesday and I'm even invited to volunteer my time if I wish, next year. Sounds like a plan to me.
Another favorite event of Bob's is the 'Annual Flat Trackers White Plate Breakfast', which he confides was started in 1979 by Pappy Hoel, Al Burke (former National Champ in 91) and himself. This is a chance for all the old-timers to get together once a year to reminisce. Don Vodden, one of the founding members who also raced in 1938, is in town for this event.
The next piece of info I squeezed out of Bob was in regards to the monument for Flat Trackers. This is another fine example of how the Gypsies are staying true to the cause. Bob tells me that the monument is located at Junction and Ballpark Road. He also goes on to explain that Al Nelson designed it. Al was the winner of the first race back in 1938. Al was also an H-D factory racer back in those days and shared this with Bob many years ago which he was kind enough to share with me.
Walter Davidson came up to Al once and asked him how they could make their bikes a little faster? Keep in mind that in those days the racers did their own racing tune-ups. Well Al spoke up, and told the Boss to make them more like the Indian's. He confessed that probably wasn't the smartest thing to say to the boss. Al eventually did help H-D to redesign the racers with lighter gears, and general speed tuning.
There are many places to hang your hat and wet your whistle but my 'all time favorite' is the 'Broken Spoke Saloon', at the end of Lazelle Street. I visited others like the 'Full Throttle' where they emulate success, and can host 10,000 at their free concerts. Traffic can be the killer here though so head out early to avoid two hours plus, riding two miles.
The 'Camel House', which was the only place with their own generators come the thunder storm Wednesday night that knocked power out across town. They have some wild bikes and wilder women on display, with their bands appealing to a younger audience. My single friends liked 'One Eyed Jack's' cause they serve alcohol and that seems to be the preference of single women. They also have a tasty, and slightly expensive menu.
Regardless of where we started, we always seemed to end the evening at the 'The Broken Spoke". Wednesday night we rocked the house all night with "Payback", these three guys were awesome. They did not stop once during four hours plus of flawless and inspiring guitar rifts and perfect vocals. Like Jay told me later, he is always looking for the top bands of tomorrow and books all his own entertainment. The Kentucky Headhunters are another of my favorite groups that Jay has on board, and they never fail to please the crowds.
Jay agrees that greed is killing these rallies. That is why he wants every one who visits his bar to leave thinking (knowing) they have had an experience that they will never forget. The walls of the bar are lined with bikes to celebrate our brothers in the wind and you are invited to put any name of a lost one forward to be added to the 'Biker Heaven' which is a memorial for all our fallen brothers, all at no cost.
"If you are down to your last dollar, you can come down to the Spoke, enjoy the music, and drink free ice water all night (from any of the many coolers hanging around the bar). You don't need to spend any money." Jay also states,
"Every rally takes a piece of your soul." And although they only do six events a year in four locations, Jay hasn't been home since April. Thankfully his family, including wife and daughter both work beside him along with a hundred other 'Family members". Recent growth has taken its toll on finances so Jay's advertising budget is mostly word of mouth. He did share that two years ago in Daytona, he took his budget of $3000.00 and gave it out to his patrons one dollar at a time.
"That was the best advertising I ever , he jokingly adds. In addition to great bands and ice water at no cost, the Spoke also has a parking lot, which is free for all bikes. There is still the danger of being towed near the entrance to the bar. I witnessed Tony (head of security) come in gasping on Monday evening saying he had just moved eighteen bikes but one guy had his Road King's steering locked and they couldn't move it. The County was scooping it as we talked. That will cost the owner near $150.00 in tickets and a $50.00 cab ride to pick it up.
"Every day has its own personality and every day you have fewer workers so those left have to kick in more effort". Every night you can hear Jay warning his patrons of the dangers in night riding and offering to house any and all bikes as well as get you a ride home for the night if you are too impaired to ride or drive. I have personally seen this gentleman going through the crowd late at night looking for rides to get people home safely. Once again, I have witnessed the true essence of this week and if you ever come join our party here, Jays does his best to make this one of your best two memories.
I guess the bottom line is will I return to Sturgis? The next twenty years running, God willing. The people and the riding more than make up for the Rally's short comings or the County's short sightedness. I've made lasting friendships here and I thank God for putting such wonderful people into my life and in such a fine manner. Every year I discover yet more new roads to explore, and reasons to return the next. My final advice for any wishing to visit Sturgis during the Rally would be:
ride sober, watch where you park, be aware of and obey local laws, definitely watch for other bikes and vehicles on the road,
know your rights as displayed on my Gypsy Classic Founders shirt "Guard well your freedom once gone its hell to get back".
If you would be interested in hearing some of the many other tales of the road from our recent CCRyder.Com tour to Sturgis, don't be shy, email the editor and let him know I need the work eh, and thanks for reading.
Your Canadian Biker on the road,
CC Ryder
ccr@northernrider.com