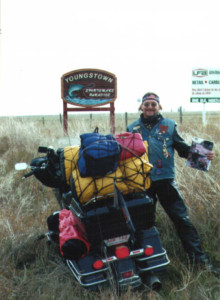 By CCRyder
Motorcycling is the original extreme lifestyle choice of the 20th century. Although today's Cross Country Ryder has evolved from the intimidating images of Sonny Barger and Terry the Tramp in "Hell's Angels '69", the attraction remains the same. Traveling across the country on the back of an iron beast is as close to true freedom that most of us will ever achieve. Visualize, riding for the Pony Express, galloping over the open prairies with your trusty stead beneath you. The powerful beat of his thundering hooves, echoing across the countryside, as you desperately cling to his flowing mane in trepidation of falling off. The two of you flying over the rugged terrain responding as one as you race along with the wind in your face.
Whatever your problem, being on the open highway always makes any load lighter to carry. Even on 'a dark and stormy day,' rolling along the highway will dissipate those pent up emotions of stress and frustration. There is something about physical discomfort that lightens the mental load. Being out in the elements not only brings you closer to Mother Earth but also closer to the people in whose backyards you are touring. No matter where you stop folks seem inclined to start up a conversation if you're on a Harley. More so than if you are on any other make (as noticed by a friend recently on a BMW, of course his bike is boot ugly anyway).
CCRyder is the new millennium cross-country biker living the dream of the open road. During the past two years CCRyder has rode over 150,000 kilometers seeking adventure, meeting people, and gathering footage for a new website based in Calgary, Alberta, called www.Northenrider.com. Equipped with a variety of cameras CCRyder has traveled from Halifax to Victoria, to Daytona and Key West, Sturgis, South Dakota and Laconia, New Hampshire, from Las Vegas, Nevada to Fort McMurray in northern Alberta.
Born in Halifax, CCRyder has been in Alberta many years but returns to Nova Scotia regularly to spend time with his family. Fortunately both of his brothers also ride Harleys so spending 12 hours on the open road is considered quality family time. In the fall of 2000 CCRyder, both of his brothers, and their mother rode from Halifax to Iles de la Madeleine. An account of the trip along with a number of scenic photographs is featured in the August 2001 issue of 'Canadian Biker Magazine'.
One of his most treasured memories is of late night running through downtown Calgary with 'The Terrible' during the mid-eighty's. After two riders have been riding together for a while they tend to run in formation. This basically means riding side by side, of course to do this you have to be able to shift together thru the gears as well but the effect is awesome. The rumble caused by two stroked shovelheads (enlarged motors) working up thru the gears together, both running straight pipes (no mufflers), echoing off the concrete structures seem to shake the very foundations they sit on. Throw an enthusiastic lady on the back and that's 'The true meaning of life'. Like the old saying goes,
'If I have to explain, you wouldn't understand'.