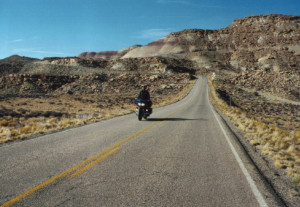 Santa Fe Express
Written by JD Boyd
aka CCRyder
It was during the Sturgis Bike Week in 1999 that I first met up with Jeff. It happened to be my virgin trip to Sturgis and having not been there before we had not realized just how much there was to see. Naturally, this left us with the difficult decision of choosing what we had to see and what could wait until next year. With Wednesday being my last chance to check out all the sights I decided it best to head out on my own. Places on my list of interest included Deadwood, Mt. Rushmore, Crazy Horse Monument, Sundance, and Panty-less Wednesday at Hulett, Wyoming, would cap off the day if I was able to make the full tour.
I had been passing every thing on the road during my travels and so was quite surprised when a Honda Valkrye roared by me while on my way to Hulett, sounding much like an Indy 500 stock car. Well, seeing that the Valkrye was the only bike to pass me all day I decided right there that I should follow.
Upon reaching Hulett, we started chatting and decided to ride back to Sturgis together. By the time I left Bike Week we had become good friends. It is amazing how quick friendships can grow when riding together and sharing the open road.
We stayed in contact over the next couple of months and in October Jeff called and informed me that he was planning to take a ride to Calgary. Naturally I doubted that he would make it that fall and so was caught off guard completely when he called on Friday, Nov. 5 to inform me that he was only one hour south of Calgary.
To further complicate things I had just received a call earlier in the week from Nova Scotia, inviting me to my baby brother's wedding reception that weekend. My flight out was that very evening, so what was I to do. Needless to say Jeff was distressed that I was leaving town with him knowing exactly zero people. I directed Jeff to my best friend Pee Wee's place and told him I would arrive as soon as possible.
Jeff reached Pee Wee's long before I did and by the time I got there he was dead to the world. So much so that two beautiful women sent in could not awaken him. Feeling guilty, I flew out of town without even saying hello to my friend. I was later to learn that he had rode thirty six hours straight to stay ahead of the snow that chased him up through Wyoming and Montana, crazy Texan.
Monday evening I returned to Calgary to find Jeff rested, relaxed, well fed and ready to hit the road again. He was concerned that the snow might arrive before he got south of the border, still, getting Jeff to delay leaving until Thursday so I could clear up loose ends at work wasn't so difficult. He had discovered some of Calgary's natural beauties to occupy his time and I agreed to ride south with him for a day or so. At least to the border I told myself.
Friday morning arrived with just a fine blanket of snow covering the ground as we loaded the bikes and headed south. We reached the Cardston area that night and called on another old friend of mine to put us up for the evening.
The next morning after a hearty breakfast and a short photo shoot we were once more on the road. Being only a few minutes from the border we were soon riding without lids and only our bandanas flying in the wind. We headed south as far as Browning, and then turned west through the West Glacier Park and south again to Missoula. By this time darkness was approaching so we decided to hit the interstate to gain some mileage before the day ended.
By 9:00 p.m. we had reached Melrose and decided to grab a room at the Sportsman Motel. Not really out of choice, but more because we had failed to keep tabs on our fuel and the local station was closed for the evening. Tech tip #1, always keep track of your trip odometer. I usually like to fill up any time past half tank, especially after dark.
By now I had traveled farther south than originally intended but was enjoying the ride so much that I figured one more day south couldn't hurt. I could travel to Salt Lake City and then turn west and return through Nevada, Oregon, and Washington adding 3 more states for my "ABC's of Touring".
As luck would have it, we reached the Salt Lake City area during the afternoon rush. Dusk was falling, I still had my sunglasses on, traffic was moving at eighty MPH, and we were doing eighty-five. This is where the anxiety stress peaked and I remember wishing that I were back in Alberta. If I could have turned around at that moment and been back home in an hour, I would have. People back in Alberta had no idea where I was and fully expected me to be at work that week since I had given no notice.
Sometimes a sense of responsibility is a terrible thing, but after stopping for coffee and unwinding for thirty minutes or so the anxiety began to dissipate. I then allowed Jeff to convince me to continue south, at least to the Four Corners Monument, I told myself.
We turned east on Hwy #6 and headed for Price. Turns out both Jeff and I are avid nightriders and so by 1:30 A.M. we had reached Moab, Utah. Even though Moab is a dry town we found a private club to wet our whistles. As we were preparing to leave a little blonde happened to mention how beautiful the bikes were and that she had never been on one. Well, I was quick to grab on to that opportunity, I told her that if she could give us a place to sleep for the night then we would take her for a ride.
By morning my anxiety attacks were long forgotten. Red cliffs surround Moab on 3 sides and the beauty was breathtaking. The trip was now beginning to feel like a real holiday as we roared out of town and south to the Four Corners. Although I had started the trip out of a sense of obligation it was turning into an adventure. We had reached warmer climates now and the cold weather of Calgary seemed like a distance memory.
It was near mid-afternoon by the time we reached the Four Corners. Naturally, I had to take a few photos before browsing the booths, where I picked up some charming pieces of native jewelry. From Provo, Utah, to the Four Corners has some of the most beautiful country I have ever traveled and I would encourage anyone who has the opportunity to visit this unique and marvelous countryside. Even though I have never been on the moon, there were spots along Hwy #262 that give you that impression, barren and desolate (as seen in picture # 10).
From here it was on to Farmington, New Mexico, and the local dealership, Desert Sports. The FLH was due for an oil change, this being the first dealership found open since we hit the States. I have since learned that most shops in the States do not open on Monday's during the off-season. Being from Calgary, where the shops are open seven days a week and we ride all year (as long as the roads are dry), this took a bit to get used to. Especially in the southern states where their winters are as warm as our summers.
These folks were very helpful and friendly and I would highly recommend stopping by to say hello if you are traveling in the area.
Jeff was waiting for me at a local pub and by the time we hit the road nightfall had once more descended upon us. Jeff's dad lived in Santa Fe, and seeing that we were in the same state we saw no reason why we couldn't reach there that night. We seemed to make better time in the darkness, probably because I stopped for fewer pictures (only the signs I really needed).
It was in New Mexico where I first realized how friendly the various law enforcement agencies are in some states. It seemed that in almost every town we stopped for gas, some local sheriff or state trooper would pull in to say hello (as seen in the included pictures). Many even posed for a picture after the initial standard questions.
By midnight we were sitting in the only dance club in Santa Fe unwinding for a few minutes before searching out Jeff's dad. Lou had recently moved so it took a short while to locate his new digs.
The next morning after laundry and repacking the FLH, Lou took us out for some of the tastiest breakfast burritos north of Mexico. Then it was off to the HD shop because my speedometer had ceased working the night before.
This shop also rates an A in my book. Even though the mechanic was on lunch working on his own bike out back he still agreed to look at the FLH. It took him all of 5 minutes to fix me up, and at no charge I should mention. They even consented to allowing me to remove their logo from the wall and take it outside for a picture (one of the pretty girls even took the shot for me).
Now came the time to part ways, always a difficult moment after riding the roads together. Jeff still had two days hard riding to reach Houston and I had to pick a route back to Calgary, hopefully avoiding any snowfall on the way.
Keeping in mind that I was trying to visit as many states as possible I decided to ride east for a while so I could get pictures of Texas, Oklahoma, Kansas, and Nebraska signs. By 1 P.M. I had started the second leg of my adventure, this time riding solo. It was peddle to the metal and by darkness I had reached Elkhart, Kansas. Here I turned north on Hwy #27 along the western edge of the state.
I had been making great time until just past Syracuse when a set of headlights appeared in my mirror quickly gaining on me. At the speed I was traveling I knew it had to be the law and I was not to be disappointed. At first the officer was quite indignant but soon fell prey to my northern charm. That's not to say that he didn't ticket me, he did, and the conversation went like this.
"Where do you think you are going in such a hurry?"
"I'm trying to get home before the snow flies, sir" (always be polite with the man, it never hurts).
"It's not going to snow tonight."
"I'm going all the way to Calgary."
"Well, you're not going to make it to Calgary tonight either."
"Sorry sir, I just figured this was bald ass prairie and guess I got carried away on the empty road."
"Well, this is mulely country and if you hit a deer at one hundred M.P.H. you won't walk away. I'd like to get to the Calgary Stampede myself someday and I want you to make it home too." After writing me up, I politely asked if I could take a picture, to which he consented but declined posing for it.
Within fifty miles I had my next encounter with the law, must have been my night. This meeting took place in Sharon Springs and once again I was double-teamed by the county sheriff and the local P.D. After running my papers, the kind sheriff even showed me the quickest northern route out of his state, how helpful is that? Pulling out of town I told myself, "Toto, let's get the hell out of Kansas". Having bought two spare gas cans back in Johnson City I had plenty of fuel on board so there was no need to stop again until I reached the Nebraska border.
Maybe they were just pulling me over out of boredom but I had no plans on pushing my luck. My next stop was at the Nebraska border and less than fifteen minutes later I was in Colorado traveling along Hwy. #34. I had chosen this route so I could get a snapshot of a Y county, and once again, it turned out to be a sheriff's vehicle in Yuma. At least this time it was my choice.
It was past 3:00 A.M. by now and I had been making poor time for the last while because my eyes could not stay open. When I stopped at the Washington County line for a picture there was no way I could mount that iron beast again, or even unpack my sleeping bag. I merely scraped the space beside my FLH with the side of my boot, removing the sagebrush and filling in any snake or scorpion holes that littered the area. Then I laid my weary head down and closed my eyes. I had traveled over seven hundred and eighty miles and set foot in six states that day, not bad considering I didn't get on the road until afternoon.
Ever try to sleep in the Colorado Desert in late November with no shelter? Right. Shortly after, tired as I was, I unpacked my sleeping bag and crawled inside. If I had the electric gear then that I have today I would have slept right in the saddle, because then, I can remain plugged in. Unfortunately on this trip, I had yet to learn of these invaluable products.
Additions to my traveling gear since then include electric grips, vest, and pants, as well as a sheepskin for the rear end. All the above I now consider to be necessities and recommend them to all northern riders, hell, even my buddy from Texas got an electric vest after trying mine the next spring.
Even wrapped in the sleeping bag all I could get was about three hours rest before the cold forced me to get on the move again, searching for the first diner with hot coffee. Shortly after 7:00 A.M. I arrived in Brush, Colorado and got my first dose of coffee for the day, still too early to eat but I sure needed that java.
Westward to Greeley where I unsuccessfully searched for the local HD shop, my rear tire was now lacking any tread and I felt it prudent to look for a replacement. No matter, I told myself, there's another shop in Cheyenne, and I'll find that one.
Boy, was that a mistake. Being a HOG member, I asked for some small discount, to which I was referred to the owner, Jack. I approached this Jack and explained my situation to him. Three times he told me that they sell at the national list price. He wasn't even crafty enough to offer some small discount and then add it to the installation charge, at least this would have satisfied my sense of fair play. Needless to say, I left a pile of T-shirts on the counter and headed north into a storm with a bald tire.
The only good thing I can say in regards to this shop is the old timers there gave me some advice on which route to take north and the coffee was free. I had three cups before heading out to battle the eighty M.P.H. winds.
Close to an hour later I pulled in to Chugwater, Wyoming. The name says it all. My muscles were totally exhausted and the mental stress was incredible. I've been riding for twenty nine years and have never been so nervous. Every overpass was a challenge, the wind was blowing me from one lane to the other and I had to ride at a fifteen degree list.
The truckers at the stop all got a good laugh when I informed them I was on my way to Calgary. They suggested I try to find a room and even doubted that was possible. Many were heading south and still not moving in fear of the winds. One did mention though that there was a flat-deck in the lot with Alberta plates.
Two hours later my FLH was strapped down on the back of a forty-five foot trailer. Bullshit you say, eh, eh, eh, I've got pictures don't forget. My guardian angel was definitely on the ball that day. Not only did Shawn safely transport my bike and me six hundred miles to Shelby, Montana. I even had my own bunk when we stopped overlooking Billings for some shut-eye.
Near 3:30, the next afternoon we were unloading my Harley at the rail depot in Shelby. If my bike was still on the truck at the border it would be taxed as cargo so there was no decision to make. A stupid giddiness overcame me as I started piling on the layers preparing to hit the road again. Just the anticipation of being able to complete my journey after how bleak it had looked only a day before vitalized me. The method in which I had traveled through the snowstorm with a bald tire only made it better. After leaving the Cheyenne shop I had an immediate feeling of remorse and foreboding but my stubbornness would not allow me to compromise and now, despite my own stupidity, it was looking like I would be safely home in four or five hours.
I caught up with the two trucks that I was to complete my journey with at the border crossing at Sweet Grass, Montana. They both had paperwork to clear so I had lots of time for coffee and to fuel up.
From Coutts, Alberta, to Calgary I rode with three trucks. Sometimes bringing up the rear, and sometimes running point. Having to stop for fuel so often always made it fun catching up. I would be stopped fueling up, and these 3 big trucks would come flying by, air horns just wailing. The kids working at a station south of Calgary thought it was wild, and I had to agree. This was also the first time that I had wished I had the C.B. unit on my bike, someday soon.
The other two truckers headed off in their own directions when we reached Calgary. Shawn dropped his unit off at the yard and came to Pee Wee's with me. So many new stories to tell that I felt like Bilbo the Hobbit and it was only fitting that I return with my guardian angel at my side.
This story demonstrates, that two wheels or eighteen, we are all brothers on the road.
CCRyder,
Calgary, Alberta
Nov., 1999