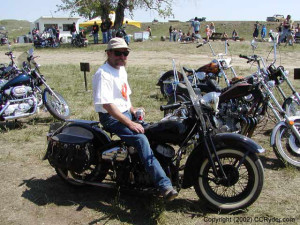 Idle Thoughts
By CCRyder
Floods of Fun at the
3rd Annual Southern Cycle Charity Run
Although I had intended to attend the Ride For Sight the weekend of June 14-16, but once I heard about the resurrected Southern Tusker, I had to go with the "little guy", with the outlaw attitude. The last time I vividly remember the Southern Tusker was in '91', that's not to say that I didn't attend any later runs, I just don't remember. The things that helped me remember 1991 are;
1) I got the t-shirt that says 9th annual.
2) I won 3rd place in the slow race and the plague says 1991.
3) I was with this dynamite blonde. The only problem with her was she kept blowing up so she only lasted the one summer.
A few things including the names have been changed. Years Ago it was put on by Denny Lunde, on his family's spread which includes some nine quarter sections, this location has personality. It's located right beside the Oldman River and is surrounded by badlands on two sides.
If you are worried about chipping your paint this isn't the spot for you. Once you get on the land there is four kilometers of gravel to reach the site. I benefited from this in the "show n shine" because my bike didn't stick out as bad as usual for being less then "spit shined". Anyone who knows me can tell you that I put more value on tire tread then I do on shining my bike.
The total number of bikes must have been between one and two hundred, after looking around I failed to notice any trailers. This is a ride for riders, real people and die hard campers (no showers here). Speaking of camping, with fifteen hundred acres to choose from the sites were plentiful and many situated under beautiful shade trees, some over four feet in trunk diameter.
The only draw back with being on the river turned out to be a big one. Five days before the event, the Oldman River flooded its banks and put the main band and party area under water. This is where the volunteer spirit shined through and Vinnie was adamant on thanking Muggsy for all his tireless efforts in getting the new site up and running. This included the stage, sound booth, and concessions, not to mention fire pit, wood, and out- houses.
The Lunde family is still donating the use of the land. Family members, Lonnie and Paul Plourd attended the entire weekend and were partying with the best. Vinnie, who runs Southern Cycle in Lethbridge is the driving force and banker of this great weekend, dedicated to Denny's memory. Although it wasn't as big as I recall years ago, the fellowship was second to none. The absence of vendors only means it isn't being commercialized. As a quick note, I'd like to mention that Southern Cycle and Outback Airbrushing have recently moved to some new digs. Their new address is 124 North Mayor Magrath Dr. in Lethbridge.
There was also no police presence taking your picture as you arrived, as I recall from the Ninety's. Maybe the boys in blue follow the outlaws around so no outlaws, no police harassment, I like it.
The games were held Saturday afternoon under a full sun and temperatures topping thirty degrees. The competition was tough so I felt lucky to leave with the trophy for second place in the Slow Race, maybe in another ten years I'll get first place. I lost to Etz but had to agree with his words of wisdom,
"The best thing about this is I beat both Moss brothers at the same time", was what he said. Guess I did too, the final was a four up race Some serious bragging rights there, at least til next time. Oh yea, I get to write about it too. Note: The Moss Brothers probably took home eight trophies or more between them.
The dinner following the games was first class. Four full hogs on the spit, chili to challenge my own, complete with sausages. A tasty pasta salad, vegetables, a choice of fine grain breads, and real butter completed this full meal deal. For me, real butter had me sold, it is the small details like that set aside the top runs.
Matt Minglewood has played this venue many times and the Texas Flood, Weed Monkey, and Jumping Jack Flash were pounding out the rock. A hat was passed at 11:00 pm and over two hundred and fifty dollars was up for the winner of the double delicious wet T-shirt contest. It was a hard decision as all the ladies were so energetic, but I had to agree with the outcome of the judges.
After breaking camp Sunday morning and sharing some bullshit over coffee, I rode back to Calgary with Liz, Rick and Payner. Eleven years ago, Payner and I rode back together from the same run, only there were more of us. It's kind of nice, the fact we have so much history and are both out there still riding. It seems so many of our old riding brothers can't get off the couch to go any farther than the kitchen, let alone the garage. Maybe they'll read this and come out just to kick my ass, in the Slow Race, that is.